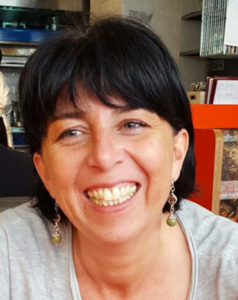 Emily Diquigiovanni
Laurea e master in Clinical Social Work presso la University of Georgia (USA) e poi la New York University con una passione "on the side" per lo yoga e l'arte. Assistente sociale, consulente famigliare per bambini e famiglie e arteterapeuta, Emily lavora in ambito scolastico e sociale sia pubblico che privato con bambini, famiglie e enti da oltre 15 anni abbinando la formazione clinica all'arteterapia e lo yoga anche in lingua inglese. Incontra lo yoga nel 2000 in USA praticando diversi stili (Iyengar, Hatha, Bikram).
Dal 2003 si dedica più costantemente allo yoga seguendo le lezioni di Giovanni Asta presso il Vidya Yoga.
Dal 2008 al 2010 in modo costante e poi saltuariamente pratica con Bruna Naitana (Iyengar Yoga).
Negli anni partecipa a vari workshop in USA e Italia tra cui Arte e Yoga con Maria E. Schmid e Claudio Foradori.
Dopo un'importante esperienza nel centro di North Fork, California, pratica meditazione Vipassana secondo gli insegnamenti del maestro S. N. Goenka.
Emily è insegnante accreditata Balyayoga, insegnamento Yoga per bambini
L'Associazione Sportiva Dilettantistica Vidya Yoga Benessere
propone vari percorsi di Yoga: Hatha Yoga, Yoga Integrale, Yoga Dolce, Kundalini Yoga, Yoga in volo, English Yoga per bambini e per adolescenti, Ginnastica Posturale e Stretching Funzionale .Coloro che sono interessati ad avvicinarsi a questa scienza possono partecipare, ad una lezione di prova gratuita.
Scrivici
L'Associazione Sportiva Dilettantistica
Vidya Yoga Benessere propone vari percorsi di Yoga:
Hatha Yoga, Yoga Integrale, Yoga Dolce, Kundalini Yoga, Yoga in volo, English Yoga per bambini e per adolescenti, Ginnastica Posturale e Stretching Funzionale.
Coloro che sono interessati ad avvicinarsi a questa scienza
possono partecipare, ad una lezione di prova gratuita,
Scarica ora il Pdf  dei nostri Corsi  :  CLICCA QUI