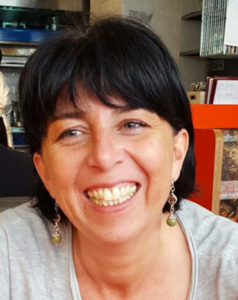 Emily Diquigiovanni
Laurea e master in Clinical Social Work presso la University of Georgia (USA) e poi la New York University con una passione "on the side" per lo yoga e l'arte. Consulente famigliare per bambini e famiglie e insegnante di inglese , Emily lavora in ambito scolastico e sociale con bambini e famiglie da oltre 15 anni abbinando la formazione clinica all'arteterapia e lo yoga.
Incontra lo yoga nel 2000 in USA praticando diversi stili (Iyengar, Hatha, Bikram).
Rientra in Italia nel 2003 e i dedica più costantemente allo yoga seguendo le lezioni di Giovanni Asta presso il Vidya Yoga che continua a tutt'oggi.
Dal 2008 al 2010 in modo costante e poi saltuariamente pratica con Bruna Naitana (Iyengar Yoga).
Partecipa a vari workshop negli anni in USA e Italia tra cui Arte e Yoga con Maria E. Schmid e Claudio Foradori.
Dopo un'importante esperienza nel centro di North Fork, California, pratica meditazione Vippassana secondo gli insegnamenti del maestro S. N. Goenka.
Emily è insegnante accreditata Balyayoga, insegnamento Yoga per bambini.
L'Associazione Sportiva Dilettantistica Vidya Yoga Benessere
propone vari percorsi di Yoga: Hatha Yoga, Yoga Integrale, Yoga Dolce, Kundalini Yoga, Yoga in volo, English Yoga per bambini e per adolescenti, Ginnastica Posturale e Stretching Funzionale .Coloro che sono interessati ad avvicinarsi a questa scienza possono partecipare, ad una lezione di prova gratuita.
Scrivici
L'Associazione Sportiva Dilettantistica
Vidya Yoga Benessere propone vari percorsi di Yoga:
Hatha Yoga, Yoga Integrale, Yoga Dolce, Kundalini Yoga, Yoga in volo, English Yoga per bambini e per adolescenti, Ginnastica Posturale e Stretching Funzionale.
Coloro che sono interessati ad avvicinarsi a questa scienza
possono partecipare, ad una lezione di prova gratuita,
Scarica ora il Pdf  dei nostri Corsi  :  CLICCA QUI